Handmade with love
About Maya Muse Textiles
Maya Muse Textiles believes in creating meaningful and functional textiles for the home with purpose and intention.
Inspired by Australian landscapes and botanicals, traditional textile techniques and mindful creation. 
The Maya Muse Textiles collection is lovingly made the old fashioned way; pure linen, hand screen printed with hand mixed inks.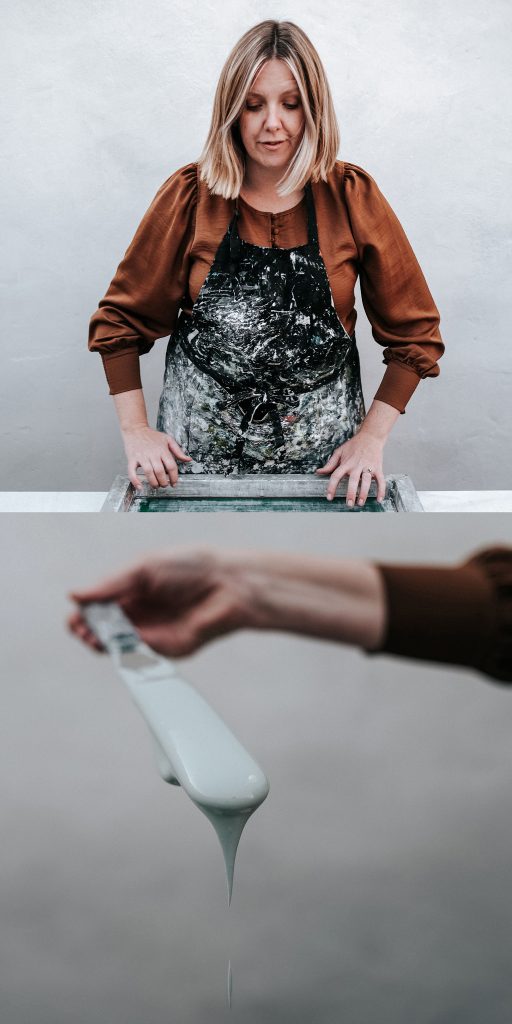 I am Maya Queenan. The face and hands behind Maya Muse Textiles.
  Whilst studying a Bachelor of Design at COFA (UNSW's College of Fine Arts) I fell in love with textiles. Telling a story with weave, print and embroidery became a passion.   
After graduation I went on to work as an in-house Textile Designer for a leading Australian soft furnishings company and then spent 5 incredible years living and working in London. This experience scratched my itch for travel and gave me the opportunity to work in visual merchandising and in fast-paced textile print studios designing prints for fashion and homewares.
Seeking sunshine I returned to Australia in 2009 with a yearning for creative freedom as well as a niggling unease about my part as a textile designer in contributing to the troubling environmental and social impacts of the textile industry. I wondered how I could contribute to positive change.
With the support of Warren, my husband, I took the leap and established Maya Muse Textiles in 2010. It made sense then and it still does. 
Over the past 10 years it has been such a thrill, and a privilege to grow my business. I am now Mum to Oliver and Lucienna (Ollie and Luca), and whilst juggling motherhood and small business is a challenge I am embracing the chaos and attempting to find the perfection in imperfection!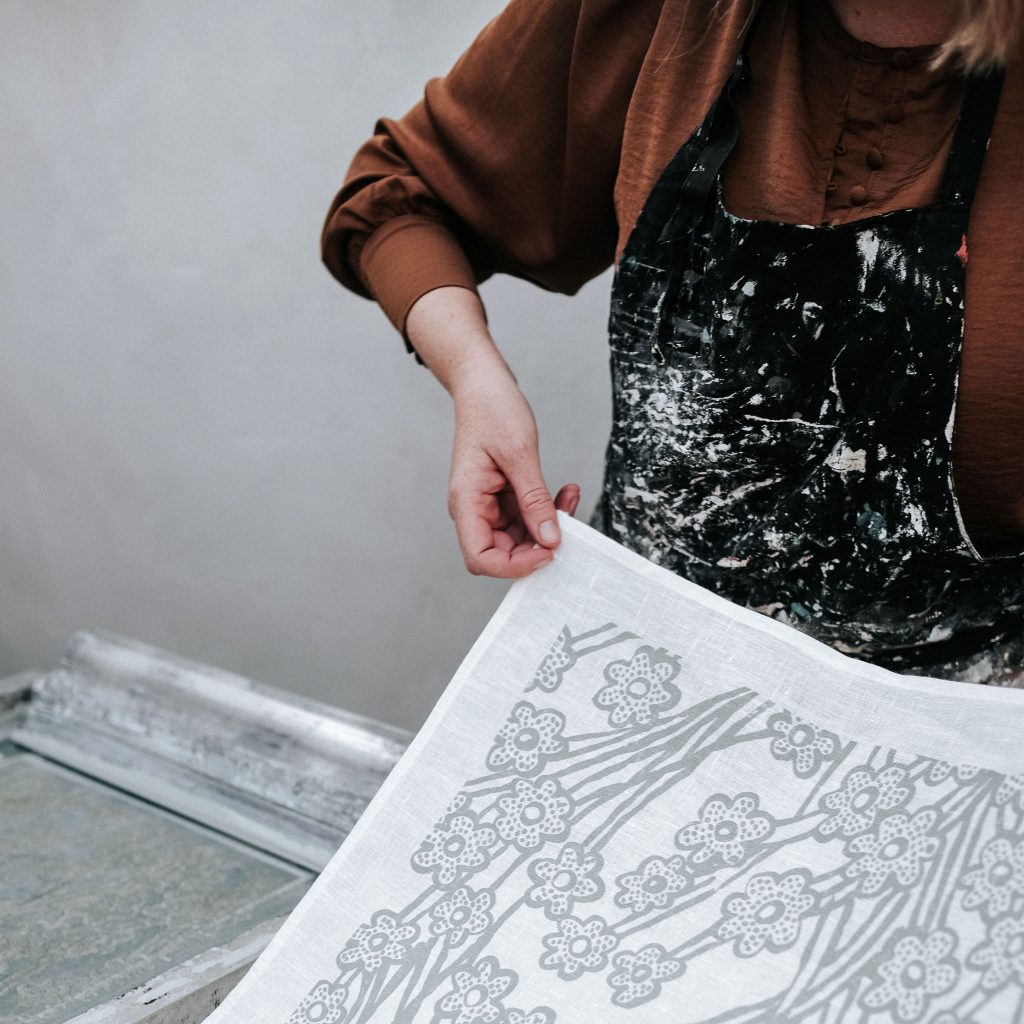 Maya Muse Textiles was established after my return to Sydney following 5 years in London. I saw the colours and textures of the expansive Australian landscape, and the unique Australian botanicals with new eyes and a renewed appreciation for their unique beauty. I was inspired to capture a timeless modern Australian aesthetic that compliments our way of life.   
All designs in the Maya Muse Textiles collection begin as a drawing or painting. I believe this 'hand' approach complements the unique characteristics of the hand screen printing process and is reflected in the end result. Once the soul of a design is on paper I will take it onto the computer to resolve the repeat and layout.   
I enjoy working within the limitations of the one colour screen printing process, simplifying a design and playing with positive and negative space. Simplicity takes time and patience. The thrill of the first pull of the squeegee through the ink on a new screen never gets old. Revealing the first print of a new design is always exciting. I find a design, once printed onto linen always comes to life and is full of all the possibilities of what it will become.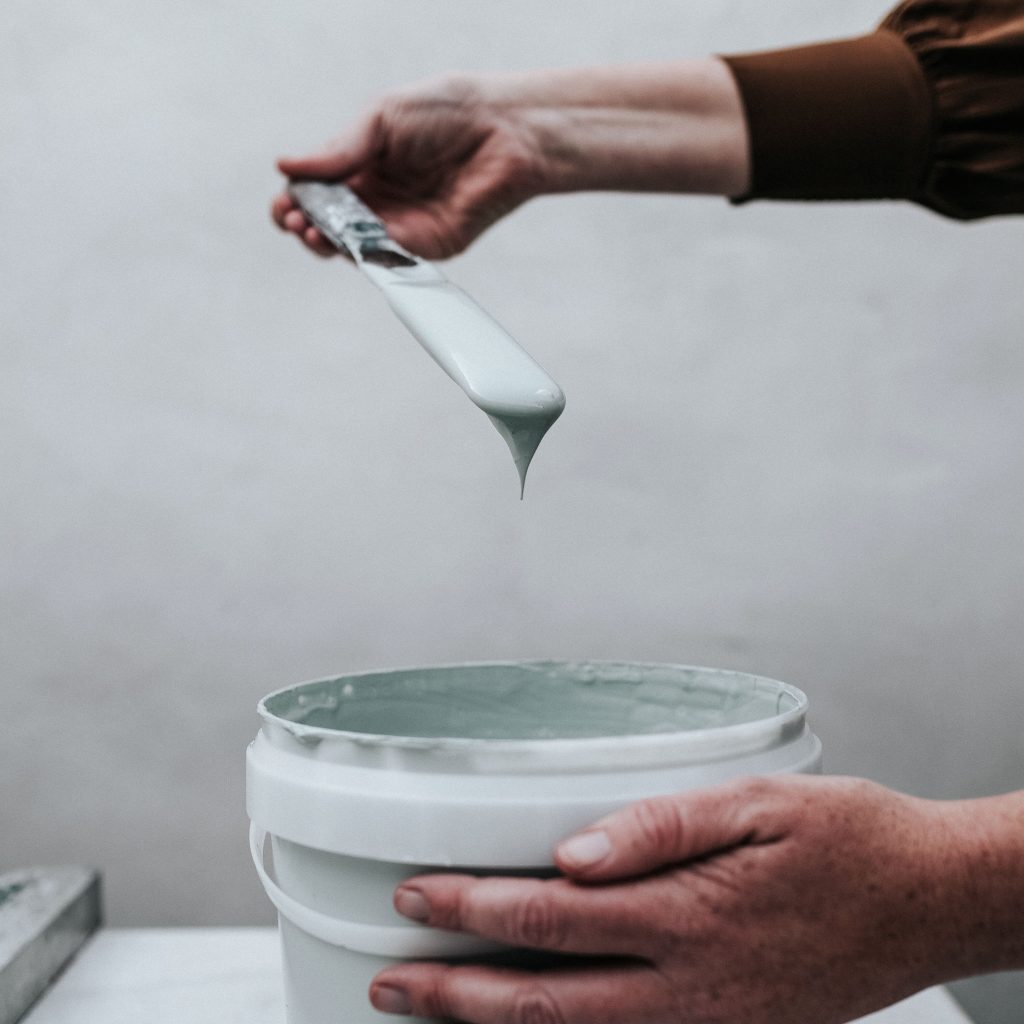 Each piece of fabric is an act of consideration and carefully screen printed by hand…my hands in my small studio in The Hills District in Sydney.  Being a one woman show I am restricted to smaller pieces of fabric rather than meterage. I choose to see the positive in this as it allows me to do small print runs in multiple colour ways, to experiment with new print and colour combinations more readily and to offer more diversity in the collection.

Screen printing is a time honoured traditional technique which imbues each piece of fabric with its own character and authenticity. Slight imperfections can occur with this process which I believe should be celebrated as a mark of the hand. When more significant imperfections occur these pieces of fabric are cut down into smaller products in the collection, salvaging the usable fabric and minimising waste.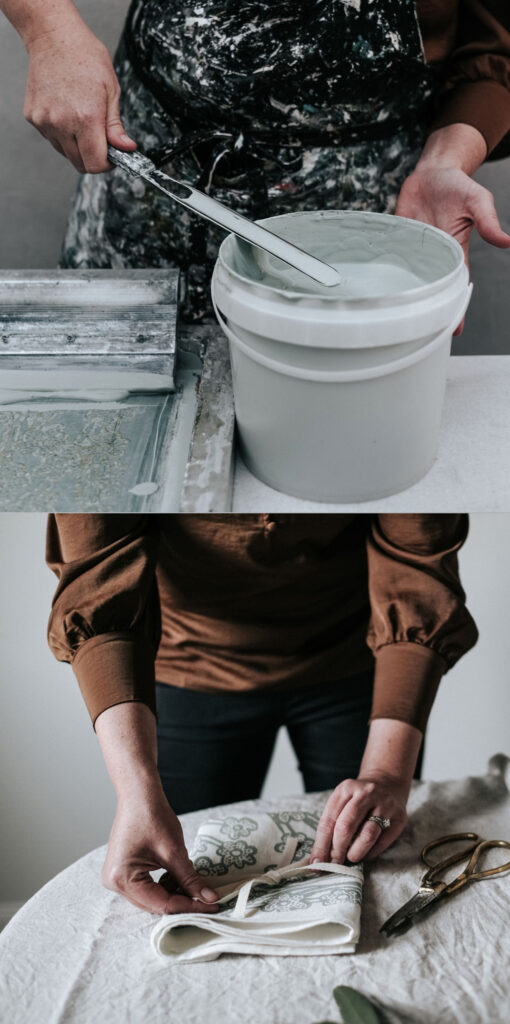 I built my brand on the belief that there will always be a place for the handmade. That there is a yearning for simplicity, integrity and enduring craftsmanship.
There is such joy in creating products that remain tactile in your hands for years to come. Pure linen is sustainable, durable and functional. It is an honest material, a considered choice and designing with longevity and purpose should be fundamental to product design. In today's throw-away society I seek to fill my home with quality pieces that I love, that are made with integrity. It is my hope that Maya Muse Textiles products are a comforting collection of handmade and purposeful products for your everyday life, a tactile ritual that brings joy.
Maya Muse Textiles is committed to producing locally. The entire collection is designed, hand screen printed and sewn  in Sydney. This would not be possible without the support of a number of other amazing small family businesses with whom I collaborate. I believe in supporting local business. I can be assured that my products are produced in an ethical and sustainable way when I have strong relationships with my local suppliers and machinists. One of the most rewarding aspects of running a designer/maker business is the friendships I have formed with the people who help to bring Maya Muse Textiles to life and those who support my little business.